1.High-quality products
The following is the evaluation of a Saudi Arabian customer. He is very satisfied with the screw rods we help him produce and continues to place orders with us.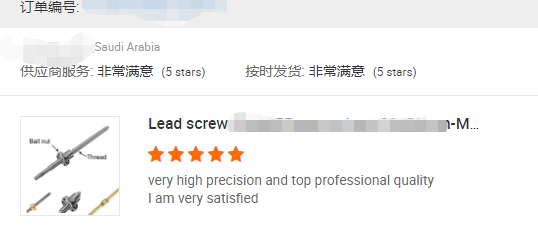 2.Excellenceservice
You will get the fastest response and timely professional communication with us.
This is a comment from an American customer. During the production process, we shared some production videos and pictures with him. He was very happy that we did this. After receiving the goods, he was also very satisfied with the goods.

You will get the help of our professional engineering team, we can help you design and draw
This is a comment from an American customer. This customer can't draw his own drawings. He sent us samples. Our engineers helped him modify the design according to the customer's ideas and gave the customer complete drawings. The customer who received the product was very happy to say that we helped him create the unique parts.
3. Fast delivery
Are you troubled by the long delivery time? You can get fast delivery time from us.
Just tell us the delivery date you want, our factory will coordinate the production schedule to help you

4.Perfect packaging
You can get unexpectedly perfect packaging with us.
We should not only produce high-quality and beautiful products, but also take good care of and protect products from bumps during transportation.
This is the comment from the Korean customer. For him, our packaging is like an additional surprise. We are so glad we have surprised our customer again

5. Pleasant purchasing experience
You can get a pleasant purchasing experience with us.
This is an evaluation from a Japanese customer. He is very satisfied with the CNC parts we produced for him. He said happily that " This is by far one of my best experience on Alibaba"

Are the above four points what you want? Just tell Jill  (email:sales007@jiesheng100.com )  ,
what else do you want from us besides the four points above?